Palmetto Afterglow
Feel Comfortable in your Skin Again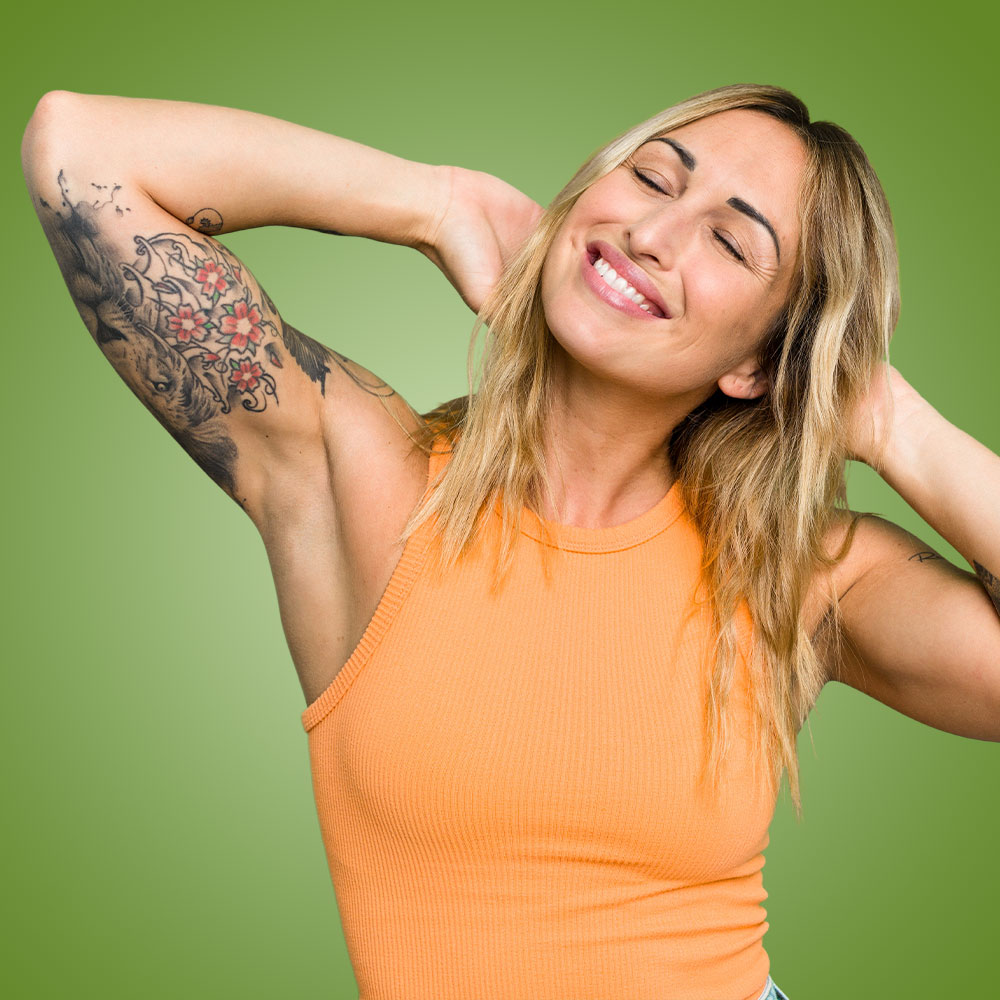 Remove Unwanted Ink & Restore Natural Pigmentation
Laser Tattoo Removal Services in Chapin, SC
Wishing you never made that tattoo appointment? The good news is that tattoos are not necessarily as permanent as they claim to be. At Palmetto Afterglow we offer science-based and results-driven laser tattoo removal services. Our treatment is the safest and most effective method of removing ink pigmentation from the skin.
How Does Laser Tattoo Removal Work?
Laser tattoo removal uses elite technology for an extremely safe and effective method for removing unwanted ink. This leading-edge technology uses focused beams of light to heat up and scatter pigments on the skin. Our aestheticians use different wavelengths to target different colors.
After the procedure clients will enjoy the restoration of their skin's beautiful natural pigmentation.   Most tattoos require four-to-six sessions to completely remove unwanted pigment, but larger tattoos may require more time. Laser tattoo removal is currently the safest and most effective method of removing ink pigment from the skin.
What are the Benefits of Laser Tattoo Removal?
Who is a Candidate for Laser Tattoo Removal?
We recommend laser tattoo removal for healthy adults who wish to remove ink from their skin. Nearly any tattoo can be removed with our treatment, though larger tattoos will require more sessions overall. Tattoos with black pigment are often the easiest to remove, but any pigment is susceptible to laser removal.
Laser tattoo removal is most effective in healthy adults because the immune system naturally aids with the pigmentation removal process. Schedule a consultation with the highly-experienced team at Palmetto Afterglow and wave goodbye to regretful tattoos.
Laser Tattoo Removal FAQs
Laser tattoo removal is generally not harmful to surrounding or lower skin layers and is currently the safest option available for tattoo removal. The procedure breaks up pigment so that it can be absorbed and flushed out naturally by the body.
Clients may experience redness for a few days after their appointment. In some cases, people may experience mild bleeding from the area, but when done correctly, laser removal acts as a revolutionary technique for ridding the skin of tattoo pigments.
Every client is different and so is their discomfort level when going through laser tattoo removal. Most clients report that the procedure is about as uncomfortable as getting the tattoo in the first place.  For highly-sensitive clients, we may recommend a topical anesthetic before the tattoo-removal process begins.
Start Your Journey
Schedule An Appointment for Laser Tattoo Removal in Chapin, SC
After an appointment with Palmetto Afterglow you'll never have to worry about covering up tattoos you regret again. We utilize leading-edge technology and prioritize your comfort and safety above all else. You'll feel confident that you're in good hands with Dr. Loging and our team of highly-trained professionals.
Don't live in the past by being reminded of unwanted tattoos; instead, look forward to a future of clear, glowing, and naturally-pigmented skin. Schedule your consultation today!